MAIN INDEX
PURPLE ZONE
RED ZONE
BLUE ZONE
PINK ZONE
GREEN ZONE
YELLOW ZONE

INTERNATIONAL, PROVINCIAL
& STATE PAVILIONS
CORPORATE PAVILIONS & THEME EXHIBITS

BELGIUM PAVILION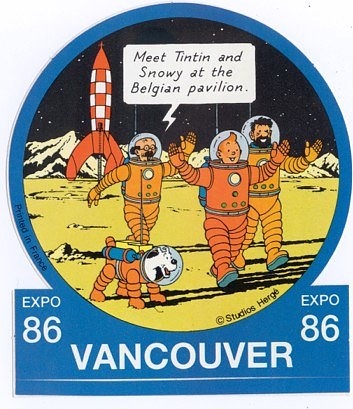 Belgium took the transportation theme to heart by naming their famed cartoon character Tintin "the first man on the moon." A life sized model of Tintin welcomed guests to the pavilion from the moon's surface.
In the main exhibit area, a sophisticated, working model of Antwerp's harbour was displayed complete with robotic cranes and ships. Also displayed was the Belgian canal system linking several seaports as well as innovations in urban transit.
In the middle of it all, visitors could view a model of Europe's first train.
A 28 screen video presentation focused on transportation and culture. It also explained why Belgium is the only country on earth that can be seen from space.